We've been around the world, and we've brought the best from our travels back to Bryan, Ohio!
Kora Brew House & Wine Bar is a destination like no other. This venture combines our love for premium coffee, world-class wines, regional microbrews, top-notch spirits and delectable foods. Stop by and you'll see why we say Kora is truly the perfect place to wake up and wind down.
Located in the heart of Bryan, Ohio's, historic downtown, we offer cozy indoor seating, an enchanting garden and quaint café tables that overlook Williams County's majestic courthouse. Expand your knowledge and palate at a tasting event, try your hand at one of our creative classes, or sit back and take in the tunes when we welcome the best in local musical talent to our stage. 
Wake up and wind down at Kora Brew House & Wine Bar.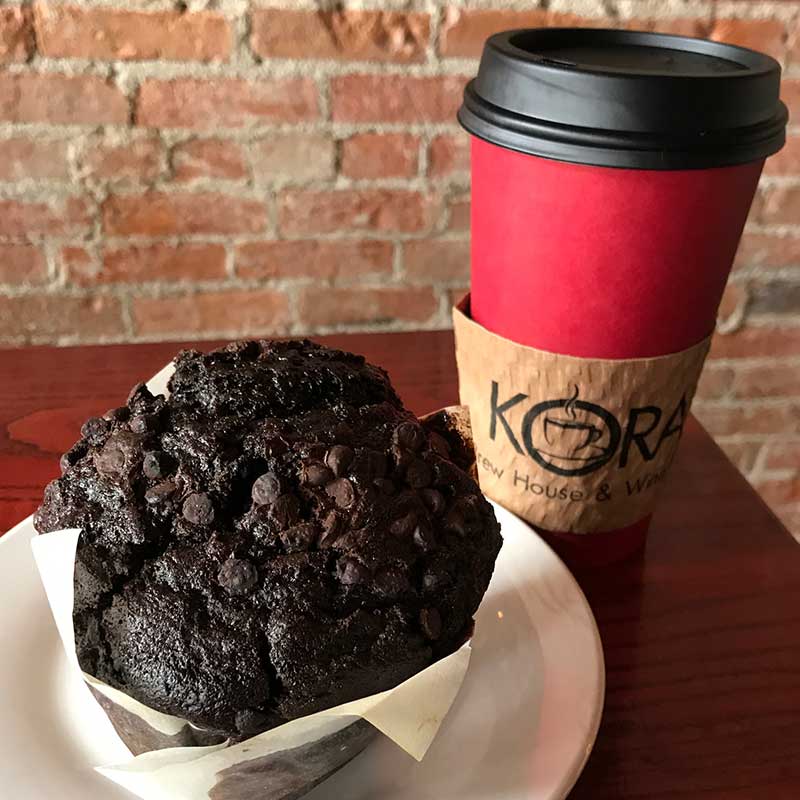 Wake up with an espresso-based drink or premium coffee. Mornings also feature hand-crafted pastries and croissants. Stay, relax and enjoy our ambiance or take your items for a splendid breakfast on the go. Small plates are also available for brunch, lunch and throughout the day.
Wind down with our amazing selection of wines, craft beer, Scotch, bourbon and whiskey. Our expert staff will help you pair your selection with the perfect accompaniment from our menu. Try a gourmet flatbread pizza, munch on a hummus platter, or satisfy your sweet tooth with homemade cheesecake.
Kevin & Teresa Maynard have a passion for music, travel and all things delicious. After living away from Bryan for several years, our family decided to return. That return provided an opportunity to bring our passions together, under one roof on Bryan's courthouse square.
The building that was once Schuck Jewelers is now home to Kora Brew House & Wine Bar. We lovingly renovated the space with an eye for preserving history wherever possible. When you visit, take time to revel at the original brick walls, tin ceiling and pieces of vintage décor.
Our granddaughter, Korra Kathleen, inspired our name. As she has grown, so has our business, and we celebrate both every year on her birthday in July.
When you stop in, you might hear our musically-gifted son, Nate, performing. Kevin joins Nate on occasion and also performs as a solo act and with other local musicians. No matter who is on the stage, we know they will entertain, delight and make your visit more enjoyable.
Monday – Thursday
7 a.m. – 9 p.m
Friday & Saturday
7 a.m. – 10 p.m.
Sunday
8 a.m. – 4 p.m.
Address
120 South Lynn Street
Bryan, Ohio 43506
Employment/Performing
Contact us to inquire about employment opportunities or performing in our venue.