Sip, sip, hooray!
Wake up with a cup of premium coffee or an espresso-based drink. Allow our expert baristas to hand-craft your favorite or introduce you to something new.
We offer a variety of options, including:
– Hot, iced and frozen espresso-based drinks
– Drip coffee
– Nitro-infused offerings
– Smoothies
– Hot chocolate
– Tea
COFFEE ORIGINS
Our beans are proudly roasted in small batches right here in Ohio, by the fantastic Crimson Cup Coffee & Tea based out of Columbus.



Crimson Cup is Roast Magazine's 2016 Macro Roaster of the Year!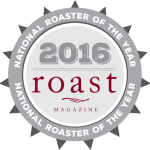 Since 1991, Crimson Cup has roasted sustain-ably sourced specialty and craft coffee in small batches. The company also teaches entrepreneurs to run a successful coffee shop through its coffee franchise alternative program, which includes a coffee shop business plan.
Crimson Cup coffee experts with refined palates, also known as "cuppers", travel far and wide to meet coffee farmers. These "cuppers" sample and inspect until they find the very best beans. Those beans are then purchased at a fair price and a partnership is born. That partnership entails working together to develop an even better product for you and a better quality of life for the farmer.
Sustain-ably sourced. Exquisite quality. When it comes to coffee, we believe it just doesn't get any better.
Come taste for yourself. Sip on the square with us! Stop by to see our extensive coffee menu or contact us to order a carrier or carafe for your next event!
[tg_button href="http://toasttab.com/kora-brew-house-wine-bar" color="" bg_color="#ffffff" text_color="#000000″]PLACE YOUR ONLINE ORDER![/tg_button]
Come out and see our vast variety of options available!
All options served hot, iced or frozen
*Fountain City Mocha
-White Chocolate with caramel drizzle and whipped cream
*Chai Latte
-Chai Tea and Milk
*Caffe Latte
-Coffee and steamed milk…add a flavor!
*Cappucino
-Espresso, steamed milk, foam…add a flavor!
*Americano
-Espresso and hot water
*Iced Coffee
-Our classic cold brew over ice…add a flavor!
*Hot Chocolate
-Feel free to add a flavor!
*Brewed House Coffee
-Armando's Blend
Latte Flavors

Mix and Match!
Almond, Amaretto, Apple, Butterscotch, Caramel, Cherry, Chocolate, Cinnamon, Coconut, English Toffee, Hazelnut, Honey, Lavender, Irish Cream, Peppermint, Peanut Butter, Pumpkin Spice, Raspberry, Vanilla, White Chocolate
Sugar Free Flavors
Caramel, Chocolate, Hazelnut, Vanilla, White Chocolate, Almond, Peppermint, Irish Cream